Back to News
Business Spotlight – April 2022
04.22.2022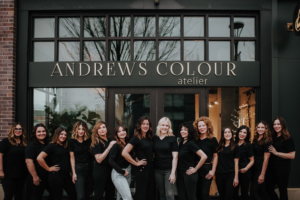 Happy National Hairstylist Day! In celebration of this day, we're spotlighting Andrews Colour Atelier for the month of April. Andrews Colour was the first storefront built here at the Van Aken District, and we've been watching them thrive ever since!
Erin Andrews Wervey, owner and founder of Andrews Colour, lived in New York City for 9 years before heading back to Cleveland. She never really wanted to own a salon, but once she came back from New York, she wanted to animate and fully support her craft. In fact, her craft was fairly new to Cleveland; what we all know of now as the popular balayage didn't exist in Cleveland just yet. Erin brought her balayage knowledge to Cleveland from NYC and taught the hair color technique to others.
Three years in the making, Andrews Colour Atelier combines the luxury salon experience and professionalism without the pretentiousness. Erin says the salon boasts "passionate hairdressers, but even more, a team of friends who work really well together." Further, her incredible team consistently invests in their passion, taking advantage of educational opportunities Erin often brings to the salon.
If you've ever walked into Andrews Colour for information or hair services, you'll first notice the kindness of the front desk staff. Immediately, you feel welcome into a community who cares not just about your hair quality services, but more importantly, that you feel your best. When walking toward the hairdresser chairs, you'll notice a luxury-feel, intentional yet subtle; you'll feel that you deserve to be in this space. And if this sense of deserving isn't enough, waiting at the coffee bar while your hair absorbs your new color hardly seems like waiting at all.
Erin wanted to bring her vision of a salon to the Van Aken District after the initial location didn't come to fruition. Finding the perfect location was as important as anything else to her, and when she opened as the first storefront here, she knew this was exactly what she envisioned.
Asking Erin questions about her business reveals her personality: humble, and team oriented. She rarely reveals what she did to get to where she is now without hinting at her incredible team. She finds them to be the biggest reward of owning a small business: "Watching these women hit new goals of theirs, buy houses…this is exactly why I do this." She's also optimistic in that even though she finds being a mom or managing a team behind the chair challenging, she sees as a reward too.
We all know how important the work is when we truly want something. Erin says this is probably the biggest advice she'd give to someone wanting to open their own small business: work hard and be as prepared as you can be. She explains, "I had a business plan and a consultant. I was prepared as I could be, but sometimes, you need to just shock yourself because it works out. I promise the reward is worth it in the end."
Walking into Andrews Colour, you'll find joy across the faces of clients sitting in chairs having a conversation with their stylists, sipping on coffee at the coffee bar, or simply booking their next appointment. While Erin is grateful to her staff and the Van Aken District for what they do to help Andrews Colour succeed, we're grateful for her vision and determination in bringing such a great space and feel to the District!
Andrew Colour is open Tuesdays, Wednesdays, and Thursdays from 8am-7pm, and Fridays and Saturdays from 8am-5pm. They are closed on Sundays and Mondays.