Back to News
Business Spotlight – August 2022
07.31.2022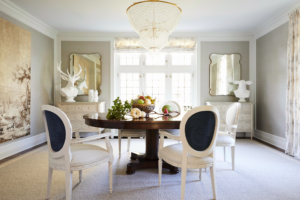 With a clear vision, a balanced team, and unmatched professionalism, Debra Antolino Interiors (DAI) has been offering residential and commercial interior design services for more than 30 years. Debbie Antolino founded the full-service interior design firm to bring her vision of the creative design process and her belief in ultimate client service to the market. Classically trained and studied, her approach to design embodies multiple disciplines.
Debbie and her team gain inspiration from the design, fashion and art worlds. Each individual project begins from the client perspective of what they envision as their lifestyle needs and requirements. From start to finish, the DAI team collaborates with architects, contractors, and landscape designers to create a distinctive environment for the client.
While Debra Antolino Interiors' projects are predominantly in Northeast Ohio, the team of 5 have completed projects in New York, Illinois, Pennsylvania, Utah, California, Florida, and North Carolina.
Debbie is grateful for the opportunity to house her studio in such a vibrant community as the Van Aken District. "The Van Aken District is such a welcoming and inviting community. We feel connected to the other businesses here, " Debbie explains.
Much like other small businesses, Debbie finds several rewards in owning her own business: "I am extremely grateful for the relationships with our clients and industry professionals that develop while collaborating on special projects. In addition, I appreciate the entire profession of interior design because it's a culmination of art history, architecture, fashion, textiles, and so many other aspects that I enjoy." Debbie's passion shines through in noting these rewards, as does her expertise and professionalism in such a craft.
Aside from positivity, Debbie suggests the following advice for those wishing to own their own small business, "You must love what you're doing and become proficient in everything involved. Make sure to build a good team with your same vision." And for those wishing to enter the interior design world, Debbie strongly recommends a major in interior design with a 4-year degree, and completing the NCIDQ certification, as well as membership with the American Society of Interior Designers (ASID).
If you're looking for a talented team of designers, look no further than Debra Antolino Interiors. You can request an appointment by contacting info@debraantolino.com, calling (216) 593-0060, or visiting www.debraantolino.com.