Back to News
Business Spotlight – February 2022
02.24.2022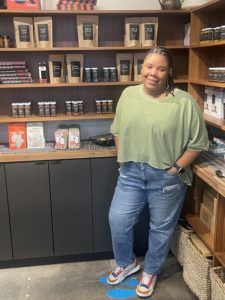 For our February spotlight, we're featuring Adun Spice Co., our newest addition to the Market Hall and the Van Aken District family.
When you walk into Adun Spice Co., you won't only be greeted by the aesthetically pleasing packaged spices, but you'll also be greeted by Ramat Wiley, whose warm smile and kindness makes the love for spices contagious.
Created in 2020, Adun Spice Co. first welcomed customers in late January 2021. As the pandemic continued, Ramat wanted to find what would next show her love for food. Through travels, spices shops remained a place of inspiration for her to learn about other cuisines and flavors. A dash of love for food, and another dash of spice shop inspirations eventually led to e-commerce, and, finally, a home here at the Van Aken District.
Along the shelves of Adun Spice Co., you'll find seasonings like Sazon, a powerhouse blend known throughout Latin cuisine, or Herbs de Provence, the classic blend from the region of Provence, in France, and so many other unique flavors.
These shelves showcase beginnings of creativity in cooking, but the magic unfolds when you combine these beginnings with Ramat. Her passion lingers in every answer or story; her passion for cooking is profound, and her passion for her store even more profound: "there are several blends and hard to find quality ingredients I carry to help create memorable everyday meals for yourself and loved ones. I work hard to source quality fresh spices and amazing artisan products like Rancho heirloom beans, which many are excited to shop here, as these beans are mostly only available online." Her knowledge goes beyond a culinary textbook-answer; it finds where you are in your creative journey in cooking and meets you there.
Ramat chose the Van Aken District as the home for Adun Spice Co. because of its familiarity. She's a frequent visitor, as it's a date-night favorite for her and her husband. Further, one of her goals for her business is to build a community, and she notes the District as the perfect place for this goal. She also finds having a small business rewarding in that "you can put your best food forward and you are sharing yourself with your community. I am thankful to be affirmed by so many as I continue to grow the business." She's privy to the challenges, too, like growing pains in delegating duties to others so she can focus on other parts of the business. It's a constant challenge, but she's built for it.
Ramat has advice for entrepreneurs hoping to start their own small businesses: "Ask for help, you don't have to do it all alone…The Cleveland State University Small Business Development Center was a huge help to myself and my business. From writing your business plan, working on financial projections, and finding options for funding. Finally, give yourself some grace, it doesn't have to be done at once." Indeed, when you walk into Ramat's space, you'll observe each spice and each item curated to breathe creativity into any customer's culinary endeavors. This careful curation doesn't stop here, Adun Spice Co. gives back to the community by what they call "Doing the Work," which provides a "monetary donation to the hard-working small organizations here in Cleveland feeding the people, and local entrepreneurs creating change." They have partnered with various businesses including Community Fridge CLE, Ohio City Farm/Refugee Response, Queen I AM, Food not Bombs CLE, Hood Honey 216, Damn Good Vegan LLC and more.
Ramat has done the work, and when you walk into Adun Spice Co., you'll wonder how. You'll seek out a conversation in Ramat's space, and you'll find a brilliant and capable chef, and an even more capable person.
Adun Spice Co. is located inside of the Market Hall at the Van Aken District. Current hours of operation are as follows: Tuesday-Thursday, 10-6pm; Friday-Saturday, 10-8pm; and Sunday 11-5pm. For more information, you can visit adunspiceco.com. Check out a video of Ramat's story here: https://www.youtube.com/watch?v=6LTYHl_Wgck.