Back to News
Business Spotlight -January 2022
01.26.2022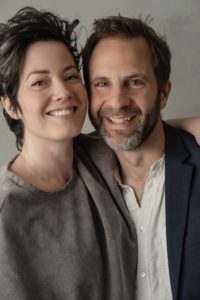 Room Service is, well, there isn't a good enough collection of words to describe its purpose. Rather, it's all encompassing, it's intentional, it's servicing to your experience, in every positive way. And yet, this still doesn't give it justice. Speaking with Andrew Worm and Jennie Doran, owners of the beautiful shop, finding the perfect words to describe Room Service is like finding your least favorite product in the shop: futile.
Let's try this again. Room Service is, what? For one, the shop features a curation of goods and stories from around the world. With a deep passion for what it feels like to be in a retail space, Andrew and Jennie find Room Service answering the conflicting questions of current internet disconnection. We're experiencing a sincere disconnect between our eyes being guided by a screen and real time experiences. Room Service, with its intentional décor and products, allows the ability to once again feel, to communicate, and to experience the connection with the space around you.
Jennie Doran purchased Room Service in 2013. She saw an opportunity to create and engage with the space given and connect with people, which is all she ever wanted. Her background in fashion translated flawlessly into retail and its aesthetics. Room Service allowed her to maintain the connection she wanted everyone to experience between space and product.
The Van Aken District allowed Room Service to exhibit this connection because of the merchants who already had established businesses here. Jennie mentions, "we were excited about the prospect of joining intentional businesses. Distinct and independent businesses were important to us, and it was so meaningful that the District had a vision of us coming here too." Her perspective of Van Aken District featuring such intentional businesses is spot-on, and this intentionality of independence manifested Room Service's current location at the Van Aken District location, which opened in 2019.
If you've ever stepped inside of Room Service, you'll feel an itch to your creative side. Every last product or décor humbles itself, makes its home right where placed. Brought to you by Jennie's staggering vision, she calls this part the reward of owning a small business: actualizing your vision and the ability to pursue ideas and concepts while finding organic connections with the community. But, sometimes, those same rewards metamorphose into challenges. Commenting on the need for structure, Andrew says "you have to create this [structure], you cannot over-extend yourself into your work even though you're passionate about it. You have to create boundaries for yourself, or the work will become very taxing, and you'll begin to take situations personally." Many fortunate people find passion in their work, but the challenge becomes leaving work to work, and devoting yourself to a work-life balance despite the passion.
Adding these challenges to advice for small business owners, Jennie and Andrew also advise building a good team and recognizing, initially, what knowledge you do have and what knowledge there is still left to attain. Jennie explains, "you'll find building a team invaluable because of the strengths of others and the assets they bring to that team." They also recommend against the "I can do it all" mentality, emphasizing the importance of asking others to help, to not work 24/7, and understanding your limitations.
Jennie and Andrew stand as two incredibly welcoming individuals, and they extend this welcome to everyone who hasn't experienced Room Service yet: "we want everyone to see what we do, we're unable to put it into a box, we want you to experience it!" Even if you leave empty-handed, experiencing beauty, curiosity, and diversity at Room Service remains the goal. You'll also walk away having encountered two genuine individuals, truly selfless in their own space and their everlasting promise of sharing that space with others.
Room Service currently operates Monday through Saturday from 11am-6pm and Sunday from 12pm-5pm. You can find them on Tuttle Rd in the Van Aken District.