Back to News
Business Spotlight – June 2021
06.25.2021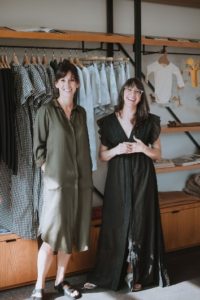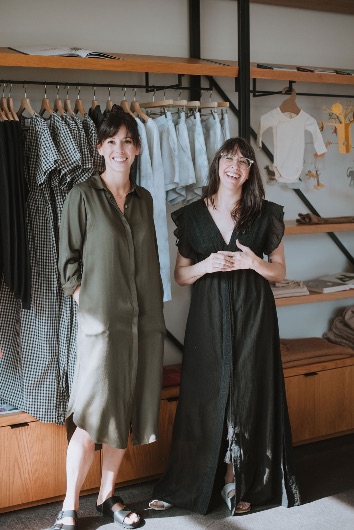 On May 28th Van Aken District (VAD) welcomed its newest retail tenant, Ladder, to the community.  When asked about why Northeast Ohio natives Andrea Wien and fellow owner April Fleming chose (VAD) as the home for their first retail venture, both described the welcoming nature that the district embodies and how it melds with the environment they hope to establish within Ladder.  In fact Wien, a frequenter of VAD prior to becoming a tenant, told Fleming that if they could not open Ladder in VAD, it was not going to happen.  It had to be this location.
According to Wien, she and Fleming want their patrons to feel as though they are part of a community and that being at Ladder is as if one is in the company of good friend.  One should find a sense of belongingness when they walk through the doors.  This is very much the vibe they feel resonates throughout all of VAD and one in which they have woven into the product offering that Ladder provides. Wein describes their garments, which are sourced from a variety of clothiers from around the world, as "elevated basics" and that there is something for women, men, and what they are affectionately calling "littles".
Wien and Flemings' relationship extends beyond Ladder.  While the two are originally from the region, they only met when they both lived in New York.  Wien first moved back to the Shaker Heights area just over two-years ago with Fleming following suit just recently as a result of the pandemic.  Once the two were back, they decided to open Ladder, a process that went from ideation to doors opening in just a matter of weeks.  Wien and Fleming credit the quick turnaround to the enthusiasm and helpfulness of VAD management to help get the store ready as quickly as possible.
As Ladder quickly approaches its one month anniversary, Wein and Fleming, have plans to ensure it becomes an integral part of the Shaker Heights and VAD community.  This includes selling the store's artwork, created by local artists, creating events to host in the space, and launching an e-commerce side to their business in the near future.
To keep up with Ladder be sure to check out their website, www.laddercle.com, and follow the store on Instagram: @laddercle.