Back to News
Business Spotlight – March 2022
03.28.2022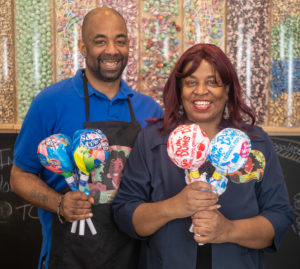 Fun-Dip, Ring Pops, candy buttons, and so many more still tempt candy-lovers and their nostalgia. These types of colorful and fun candies no longer grace the shelves of grocery stores or convenience stores, but they survive instead in candy stores owned by people like Verna and Scooter Lee, mother and son owners of Candy Lady and Kids in Shaker Plaza of the Van Aken District.
Verna Lee grew up in Mississippi where her family owned a small business that resembled a type of a café. Verna's earliest memories paint a picture of a shelf in this café dedicated to a memorable selection of candies. This memory fueled what we now know as Candy Lady and Kids, a kid-friendly candy shop featuring over 250 types of candy, including novelty ones.
Although her family's café inspired her current shop, Verna initially worked for gourmet candy shops. She imagined a candy store offering a wider selection and one that welcomed kids. Before Shaker Plaza, Candy Lady and Kids offered its sweet selections to airline passengers at Cleveland Hopkins Airport for 10 years and at Rocket Mortgage Fieldhouse for 15 years. Entering retirement, however, Verna pictured continuing business closer to her home in Shaker. She desired a more community-based interaction with customers. In choosing the Van Aken District, Verna explains, "I thought it was up-and-coming in the Shaker area as a new downtown of the east side. [The District] brought a great flavor to this community where we could create and have a diverse clientele."
Verna and Scooter opened the new location of Candy Lady and Kids in Shaker Plaza in December of 2019. When we asked Verna her thoughts on the challenges of small business, we knew opening right before a state-wide shutdown of businesses would be one of them: "We had days of low traffic and of course now, we're finding sensitivity in welcoming back customers; we're getting used to a new normal." Optimistically, Verna finds more rewards than challenges, most of which center around her gratitude for this community: "With a small business, you have an opportunity to get to know your customers and their personalities in a professional interaction."
Indeed, the longer a small business stays open, the more the community gets to know one another, and, this inspires a legacy passed down for future generations. Perhaps the most significant reward is, as Verna states, "passing down this legacy as a black-owned business" to inspire future generations. Highlighting this legacy as her reward brings to fruition both Verna's humility and her accomplishments.
Verna's legacy will one day also represent what happens when you choose your passion in your career. When asked about her advice for someone who wants to someday own a small business, she, without hesitation, advised to follow one's passion: "Do something you're passionate about because it won't always feel like work. Other aspects of business will always be there to make work more difficult, but your passion, if it's there, it'll help you endure those difficult times."
The Candy Lady and Kids is open Monday through Saturday from 10am to 6pm and 12pm to 4pm on Sundays. Beginning in June, the shop will welcome planning birthday parties in the space!