Back to News
Business Spotlight – May 2022
05.24.2022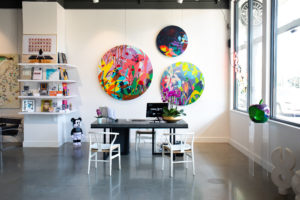 It's time for our business spotlight of the month! For the month of May, we're spotlighting the District Gallery.
The story of the District Gallery begins on a plane. Art collectors Richard Uria and the late Bob Roth met on a plane heading back from South Africa, where they exchanged their love for art and constructed a spontaneous plan to open an art gallery. And in 2019, the District Gallery in the Van Aken District was born.
They thought it was a crazy idea, but the craziest ideas often function as the moment that change our lives for the better. They knew that to make it work, they had to find the right people to run it and the right space to showcase artists. Karen Chaikin, Bob Roth's niece, was instrumental to both Richard and Bob in having the right partner for the Gallery. As the opportunity became more and more realistic, they saw the space at the Van Aken District, and they were hooked.
Walking into the District Gallery, you'll likely be greeted by Carolina Kane, the gallery manager. Previously in marketing and having studied photography, her dream was to be a gallery manager. It worked out. Together, Richard, Karen, and Carolina create a welcoming atmosphere that is quite unlike many other galleries. This modern and contemporary space boasts a community of artists who collaborate with the gallery's team and welcome guests as collectors and inspiration rather than transactional customers.
The District Gallery truly nourishes every kind of collector; indeed, you don't have to spend a lot to be a collector, with prices beginning at $75.00. This feeling of welcoming all collectors goes together with why they chose the Van Aken District as their space: "We love the vibe, the neighborhood, what Van Aken has done to reinvent this space. It feels like home and it's a great community," says Karen.
The sense of community in the Van Aken District certainly transfers into the District Gallery. Focused on educating guests who may have never before purchased art and letting people feel a sense of excitement for art they have chosen is one of the many rewards this small business gives the team. Carolina states, "Bringing guests out of their comfort zone and then watching them go from one thing to another, it's rewarding in that we love sharing information with them." This idea of sharing, collaborating, and communication with guests in an educational way emphasizes the true culture in the District Gallery that isn't the norm for art galleries. Guests find a comforting, warm experience versus a negotiable one. Indeed, the team takes time to ensure guests' vision in their home, such as scaling computerized images to specific rooms through a "try-on" setting.
Growing this kind of communal gallery boasts its own challenges, namely finding more space for new art and artists. Karen sees this as a good problem to have, however, in that "It took us a long time to get here. Now we're super busy and have a good formula. It took time to find someone like Carolina, but we did and now we're here." Still yet, Karen's advice when it comes to opening a small business, specifically, an art gallery, is to "Buy what you love and get people to buy what they love, versus an investment. Make the space inviting and educational." Her passion shines through these inviting words, offering uplifting advice on how we all might go about our own passions.
Since its inception and building an integral community as an art gallery, the District Gallery has worked closely with their artists, nurturing relationships which therefore allows guests a personal and custom experience in getting to know the team behind the gallery as well as the talent behind the art. This closes the gap from gallery to home, allowing guests a personalized experience throughout the entire process. They have also begun to do corporate installations, which they thoroughly enjoy as a new facet to the business.
The District Gallery is open on Tuesday through Saturday from 11am to 5pm and Sunday from 11:30am-4:00pm. Guests can make an appointment, but they are sure to enjoy a personalized experience either way.