Back to News
Business Spotlight – November 2021
11.10.2021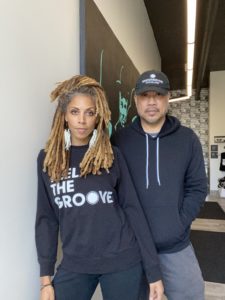 Partners in business and in life Zosimo and Anjua Maximo started GrooveRyde, a fitness studio, in their Shaker Heights basement. They moved to Cleveland in 2010 from LA, where Anjua was a fitness instructor. Groove fitness, which promises community-based connections, such as elevating and inspiring others through physical, mental, and spiritual experiences, had already taken over the fitness world in LA. Once they moved to Cleveland, Zosimo and Anjua immediately saw a need for it here.
Zosimo and Anjua deliver more than just group fitness workouts at GrooveRyde. Zosimo assures that GrooveRyde "specializes and taps into the soul of the person." Indeed, there's enough variety for anyone who walks into the upbeat studio, with 8 different workouts including beat box and group cycle. The energy in the building engages anyone at any level of fitness and of any age. Known as a micro, versatile gym, GrooveRyde enhances what the point of fitness should be: to elevate everyone involved thriving in an environment that is good for the soul.
The past two years presented an array of struggles for small businesses everywhere, but Zosimo and Anjua bring with them their own light: choosing to see positive occurrences in an otherwise chaotic time. They find many consumers wanting to support local now more than ever, and a found brethren with other small businesses in their similar experiences. There is no rule book on how to run a small business, as the pair express, it's a constant learning process because it's not a franchise. Beyond the already apparent hard work leaves things like marketing, access to capital, scaling your business, and so much more that corporations need not worry about. But weighing these challenges alongside Zosimo and Anjua's positivity pushes the duo to the forefront of success, every time.
They encourage the dream of opening a small business and they advise starting small. A born idea is the perfect show and tell for family and friends, a way to test the idea. Many cities have resources for finding pop-ups and markets to trial run a small business, and Zosimo believes these resources should be utilized to generate a following and sales. The pair also highlight the importance of learning social media and finding a good location for your small business.
As Shaker residents, the Van Aken District became the perfect second location for GrooveRyde, which originated in Woodmere, Ohio. In 2019, Zosimo and Anjua saw the Van Aken District as a place that went together with their brand. The concept of community, of knowing the name of everyone who walked through the door, the emphasis of local, and the idea of Van Aken as a downtown and not a shopping mall was attractive and a certified yes for the duo.
GrooveRyde is a minority-owned fitness studio, priding itself in diversity and inclusion. It's not an unknown fact that many people are intimidated by group fitness, that they believe they have to get somewhere in their fitness journey in order to walk into a gym. Home is a place that accepts you as you are, and this is precisely GrooveRyde's mission. Zosimo, Anjua, and their group of instructors release so much authenticity in the air at GrooveRyde that it really does feel like a second home.
You can check out grooveryde.com for a calendar of classes that fit into your schedule. Be sure to check them out on their website and Instagram for other news including promotions on class passes the week before Thanksgiving!