Back to News
Business Spotlight – October 2021
10.13.2021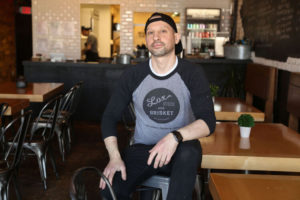 This might be the first time the words executive chef and Craigslist appear in the same sentence, but Chef Anthony Zappola isn't exactly a stranger when it comes to embracing the unconventional. On a breezy day at the Van Aken District, outside of his promising Rice Shop, he talks fast as he relates his story; he's a busy man and on the move, and he has been since 18 years old.
Rewinding, Zappola began his culinary travels in Florence and later transferred to London. He made his way back to the U.S. and showed his grit in cities like NYC, Dallas, L.A., and Vegas. He might be on the move, but he certainly pauses in the kitchen, letting flavors reap the benefits of his learned skills. Indeed, those skills awarded him Best New Chef by Las Vegas Weekly at Tom Colicchio's Heritage Steak restaurant in 2014.
But he wanted something else, and he thought Craigslist would be a good start. He acquired a small takeout Chinese restaurant off Craiglist and made it his own. Reconstructing the restaurant, Zappola created what is now known as the Rice Shop, originally set in Las Vegas' Chinatown. With preset items, each choice promises an authentic rice bowl: "it's the most creative concept I have and there's nothing like it," as he says.
In 2018, Zappola came back to Cleveland to open The Rice Shop. After he closed its doors, he made his way to Van Aken's Market Hall where he opened Lox, Stock and Brisket, a deli shop with devoted mouth-savoring menu items like the Upper East Side, a sandwich dedicated to asking yourself when you would be back again. But this was unfinished business for Zappola; he opened Le Stand, a French-inspired salad, wrap and parfait concept in the Market Hall as well.  And yet, he's still not finished. Circling back to Craigslist, the Rice Shop will once again showcase his creativity in the Van Aken District.
So, why Van Aken for his ventures post big cities and big awards? "They're growing, it's a great feel here. I love the small-business concept and the potential for growth. They've done a great job so far and there's growth for everyone here."
Many small business owners dream of this kind of growth, and for this, Zappola has some advice: "don't be scared to fail, I know it's easier said than done but don't be scared. Until you do something, it's not going to make sense, so fear can't be a stopping point. I've made mistakes in my travels, but I'm glad I never let fear get in the way."
This absence of fear launched Lox, Stock and Brisket, Le Stand, and THIS MONTH, the Rice Shop. For now, you can visit Lox, Stock and Le Stand in the Market Hall from 8am-8pm.