Back to News
Business Spotlight – September 2021
09.29.2021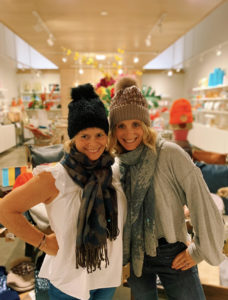 Happy end of September! As September comes to an end, we're doing our monthly merchant spotlight on LUSTER!
When you ask Robin and Tamar why they opened Luster, a gift shop with everything from congratulatory stationary to Schitt's Creek inspired flannel, they don't take us back to a defining moment of childhood, a shy desire of little girls to open a business somewhere or someday. They just did it.
In 2016, Robin found out about Van Aken District. She pitched her idea to Tamar, and they got to work. The two met over 9 years ago when their children went to school together and the two moms frequently volunteered there as well. They work well together; they fill up the room with laughs but roll back their sleeves when it's time to get to work.
They worked hard and remained tenacious throughout their endeavor for building Luster in 2018. Luster displays an enthralling inventory that is constantly changing and that you won't be able to find elsewhere; indeed, this is their mission. In their planning stages, they didn't rely on the outside world to take care of tasks that they were unfamiliar with. In true female fashion, they took time to learn everything from architecture, bookkeeping, buying shows, and so much more. They chose the Van Aken District as the perfect shop for Luster because they believe it's the perfect setting for an entrepreneur and that it's an amazing community, as Robin says, "We love our people!"
When you enter Luster, it smells good, it's colorful, and inviting and spontaneous all at the same time. If that's not enough, Robin and Tamar's smiles make the work look easy. They are two hardworking mothers balancing a small business. But if you ask them why this work is important, they'll say how they hope their kids will see this work ethic, and how all their hard work is still the number one piece of advice they'd give anyone opening a small business. Luster, built on the backs of a strong duo, promises all the light, and Robin and Tamar deliver it endlessly.
Luster, located in the Market Hall at the Van Aken District, operates from Monday-Saturday, 10am-6pm and Sunday 12-4pm. Check them out on their website, Facebook, and Instagram.