Back to News
Business Spotlight – September 2022: Michael's Genuine Food and Drink
09.12.2022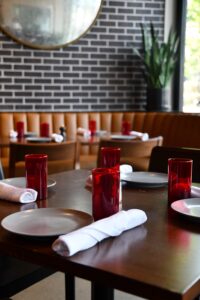 Much of our day-to-day lives focus is spent on time-crunching. How soon we wake up in the morning determines how soon we'll arrive at work or how quickly we finish errands set for ourselves.  How quickly we grab a bite to eat or how quickly we make dinner determines how soon we'll fall asleep and then, the cycle begins again. When we take a breath and focus less on time, we focus, instead, on the genuineness that life has to offer, such as that with food. This is what Michael's Genuine brings to the table, a genuine experience combining simplicity and thoughtfulness. We sat down with Tim Pursifull, General Manager of Michael's, to get the genuine details.
Michael's Genuine restaurant is a James-Beard award winning concept, opening first in Miami, Florida back in 2007. A protégé of Wolfgang Puck, Michael Schwartz desired his own concept after opening several restaurants. And so, Michael's Genuine was born in a high-end shopping district of Miami, providing a neighborhood respite to have lunch. Tim states that "years later, the neighborhood feel of the Van Aken District would ascertain a second location for Michael's Genuine, connected by the relationship from the Ratner family visiting Miami and the edge-of-plate spend."
In a city like Cleveland, as new restaurants seem to open now more than ever before, setting oneself apart from the flock is as important as ever. Michael's Genuine champions simplicity from their menu to the food and overall experience. Morsels of flavorful dishes trace back to the kitchen, where they are made by hand using only the freshest ingredients.
Tim fills us in on the pan roasted poulet rouge half breast chicken, for example, "containing no growth hormones or antibiotics, never frozen and deboned in house; this dish is prepared from the moment it is sourced, which requires some searching." Or, the truffle pizza, with mushroom crema pairing comfortably with fontina and fresh mozzarella, laced on an ideal crust; this is what it means to be simple and so damn good because of it. The brussel sprouts and crispy potatoes are simply prepared yet boast their own original flavors, modestly categorized as sides and necessary to order each visit.
There are challenges to this kind of simplicity. Rightfully so, as we mentioned, simplicity does not equal effortless. Tim explains, "sourcing the best products and procuring these best products proves difficult yet necessary in a pandemic. Of course, common industry challenges of staffing shortages and commodity pricing are not strangers to Michael's Genuine as well." However, the relationships with regulars and the neighborhood culture of the Van Aken District aligns so perfectly with Michael's Genuine that it makes these challenges worth it.
When we asked Tim what his advice would be for starting a small business, he emphasized staying true to one's why: "stay focused on what you want to accomplish and have a true north, so if something is off-center, you still have this. It's too easy for people to get distracted, especially in the restaurant industry; what's most important is your eye on where you want to be not necessarily where you are." This great advice is a great ending to the story that Michael's Genuine seeks to tell. Everything from the craft cocktails to the ingredients and the menu are carefully thought out and point to this true north: genuine. Tim states Michael's is "honored to give guests a story and an experience," and we're simply thrilled to participate in it.
Michael's Genuine, located on Tuttle Road, is open from 4:00-9:30 Monday through Thursday, 4-10pm Friday and Saturday, and serves brunch on Saturday and Sunday from 10am-3pm.