At Northstar
we recognize that every decision we make affects the health of our community and the environment on a local and on a global scale. We make conscious decisions about the kinds of locations we choose, the way we build our restaurants and the operating supplies we purchase in the cafes.
Most importantly, we're extremely careful about the ingredients we use. We choose locally grown, organic, and artisan-produced foods not only to protect the environment and to support producers whose values are aligned with ours but also so that we are serving the most wholesome and delicious food we can.
What do you do/sell/provide?
Northstar Cafe + Bar serves from-scratch, locally-sourced breakfast, lunch and dinner in a beautiful and energetic environment. Featuring a showcase kitchen, full bar, weekend brunch and live jazz trios, Northstar offers delicious, familiar favorites that will please everyone.
VISIT US
3380 Warrensville Center Rd, Shaker Heights, OH 44122
DAILY HOURS
Mon-Fri:

9:00 am - 10:00 pm

Sat-Sun:

9:00 am - 10:00 pm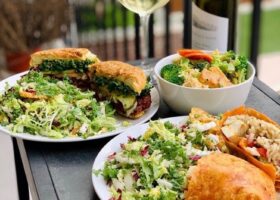 BE THE FIRST TO KNOW
Join our mailing list and get the inside scoop on project announcements, vendor updates, events, and more.